Insight | Blog
Fellow spotlight: Amy Manning
5th October 2021 | Amy Manning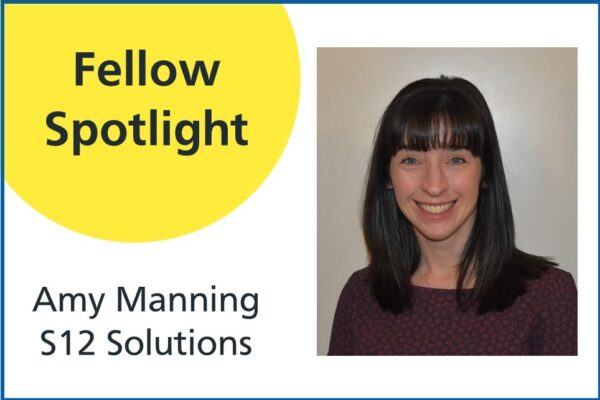 Amy and her innovation, S12 Solutions, joined the NHS Innovation Accelerator (NIA) in 2019. Since then, S12 Solutions was selected for NHS England's Innovation and Technology Payment Evidence Generation Fund, and in April 2021 it was acquired by VitalHub.
What three words would you use to describe yourself?
I believe I am determined and caring, and someone at the beginning of this journey told me I am tenacious.
How did you get involved with health innovation?
I got involved in health innovation from my role as a social worker. My frustrations with paper based processes slowing down assessments in mental health processes led me to develop S12 Solutions.
What was your experience of the NIA application and interview process? 
I had great support to prepare for the NIA interview and application via supportive AHSNs. The interview was robust and had many key national stakeholders at the table – I had some constructive comments and lots of encouragement. I left the interview and went opposite the NIA office to Leon and phoned my colleague Carly to say how well I thought the interview had gone!
Have you been a part of any other accelerators?
Since joining the NIA, S12 Solutions joined the DigitalHealth.London Accelerator 2020-21 cohort.
What are the biggest benefits you've experienced as part of your NIA Fellowship?
The biggest benefits to me have come from the support from the NIA team and other Fellows who are on the innovation journey in the NHS with me. They've been there cheerleading for my successes and offering a dusting down when I've hit stumbling blocks. It can be challenging being disruptive in your own space, and the back up is really helpful.
I've also been able to learn from and feel inspired by those who are further along in the scaling process.
What's one tip you have for others looking to develop and scale an innovation in the NHS?
My advice would be to ensure that you truly believe in the innovation you are developing as your belief will be tested, and that other people care enough about the problem to assist in solving it. You can't have one without the other!