Insight | Blog
My story: Marie
4th November 2021 | My story: Marie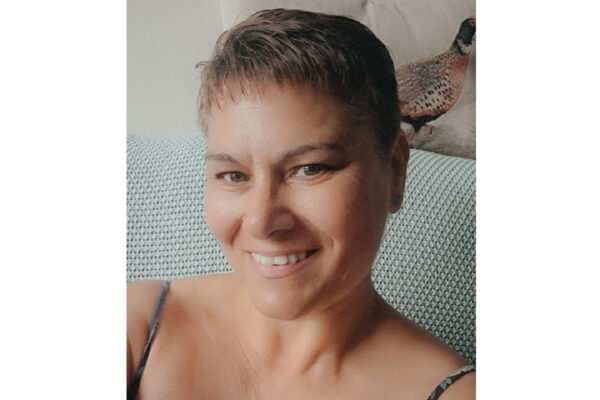 Marie was just 49 when she was diagnosed with bowel cancer – almost 9 in 10 people with bowel cancer are aged 60 or over1 – without experiencing any of the common symptoms or having a family history of cancer.
The first sign anything was wrong came when Marie was rushed to hospital with appendicitis. Waking up from the anaesthetic, she was surprised to discover that instead of the expected key-hole surgery, she had undergone open bowel surgery; "I was told a large mass had been discovered but didn't feel unduly alarmed because I assumed it was an abscess. I'd been warned that appendix patients sometimes end up needing open surgery." Returning to hospital for her routine six-week checkup, Marie was shocked to be informed the 'mass' was advanced bowel cancer – the furthest thing from her mind. Marie explained, "looking back I realised I'd had some weird symptoms like palpitations, anaemia, headaches and bloating that I'd put down to stress at work".
Upon starting chemotherapy, Marie struggled to record all the different aspects of her self-care. She wanted to feel more in control of her condition and give day to day insight to her oncologist about how she felt throughout each drug cycle. At first, she was using a diary app on her mobile phone to record her temperature, medication, food and any side effects she was experiencing. However, through her frequent networking on twitter she discovered Vinehealth, an app that supports cancer patients through treatment. For Marie, the initial appeal of Vinehealth was having a safe place to record all of her cancer information in a straightforward way. Not only did the app offer better functionality compared to Marie's diary method, but it would record information in a more medical way, making her appointments with oncologists easier.
For Marie, the initial appeal of Vinehealth was having a safe place to record all of her cancer information in a straightforward way.
Vinehealth was created to empower people like Marie who have been diagnosed with cancer by enabling them to report and monitor their symptoms, medications, and activity levels. The free app provides patients and their loved ones with easy access to trusted information so they can make the most of the, often limited, time they have with their doctor. One of the benefits Vinehealth offers is being able to access personalised cancer information in the comfort of a patient's own home, helping when they feel isolated and unsupported.
Marie spoke of the immediate benefits of Vinehealth, including having all of her cancer information in one place, being able to go back and look at her previous logs or complete a recording she had missed a few days prior. Marie also liked how the app asked her each day how she was feeling and suggested methods on how to combat her symptoms, like insomnia, fatigue or depression. The app also gave her confidence on when to take action, for instance by giving a warning if a user's temperature is too high and suggesting that if they are concerned they may want to contact their health provider. Additionally, Marie highlighted the reports you can access anytime in the app along with the report pdfs you can generate before your appointment and how beneficial it had been to be able to take these to her consultant.
Vinehealth puts users at the forefront of their design, continually adapting and improving their software. Marie described how helpful the Vinehealth team were, incorporating feedback into their plans and going through the usability of the app with her. For Marie, it is this personalised care which separates Vinehealth from other innovations.
At 52, Marie continues to use Vinehealth to help manage her bowel cancer. She has exceeded her prognosis and is now on her 31st chemotherapy cycle.