News
Konrad Dobschuetz appointed as NHS Innovation Accelerator National Director
20th July 2022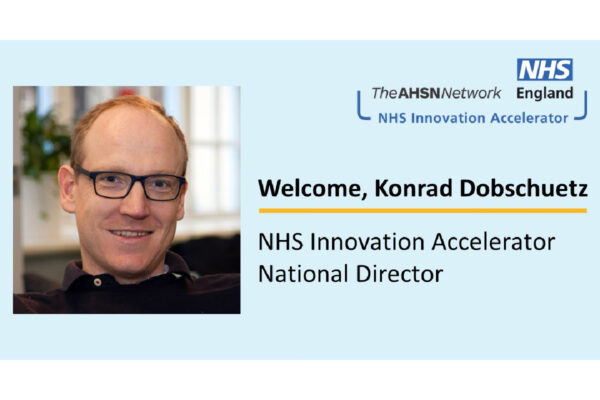 We are delighted to announce the appointment of Konrad Dobschuetz as National Director of the NHS Innovation Accelerator (NIA) and Chief Enterprise Officer of UCLPartners AHSN.
In his new role, Konrad will lead the NIA in its work nationally to support exceptional individuals to scale promising innovations across England's NHS for patient and staff benefit. In his UCLPartners role, he will lead on strategic enterprise, industry partnerships and digital health.
Konrad joins us from Novartis, where he is Head of Customer Solutions, Digital & Health Innovation and BIOME UK. He has a track record of successfully on-boarding start-ups as well as creating strategic frameworks for innovation enablement. During his time leading Novartis Biome UK, Konrad has supported multiple innovations and real-world evaluations in more than 70 NHS sites. Konrad has also driven large scale digital transformation projects for international companies such as Pfizer, MasterCard, Canon and GE Healthcare across Europe and International Markets, including Asia. He has long-term experience in e-commerce, omni-channel marketing, commercialisation of assets and strategy development. For the past few years Konrad has also been working on AI, Blockchain and internet of things innovation projects, applying Six Sigma principles.
Dr Chris Laing, Chief Executive Officer of UCLPartners and current NIA National Director, said: "Konrad's extensive experience in innovation commercialisation and strong track record in digital health makes him ideally placed to drive forward strong industry partnerships and ensure that innovation leads to commercially viable and sustainable improvements in health. I have been very impressed with Konrad's values and his strong commitment to having clinical impact and reducing health inequalities, and I am looking forward to welcoming him to the team to take up the NIA National Director role and to lead UCLPartners' enterprise function."
Professor Sir Stephen Powis, National Medical Director for NHS England and NHS Improvement and Chair of the NIA, said: "The NIA plays an important role in identifying and supporting exceptional individuals with solutions that are at the forefront of innovation, facilitating the discovery of the latest, cutting-edge treatments and technologies which benefit patient care. Konrad brings strong commercial acumen and experience of supporting start-ups and healthtech businesses and I am delighted that he will be taking forward leadership of the NIA."
Commenting on his appointment, Konrad said: "I am passionate about patient-centred health, advocating for and implementing new solutions and visions. I am hugely excited by this opportunity to use my commercial, data & digital innovation and entrepreneurial experience to drive better healthcare. Making the move from industry to work closer to the NHS and patients is a key motivator for me. I look forward to working with UCLPartners colleagues and partners and the NIA Fellows and team to lead change in the way we use innovation, digital and industry partnerships to crack problems of the time and deliver solutions. Getting things done is key."
Konrad will take up his new role from 19th September 2022.