News
Locum's Nest launches world-beating new product range
1st July 2020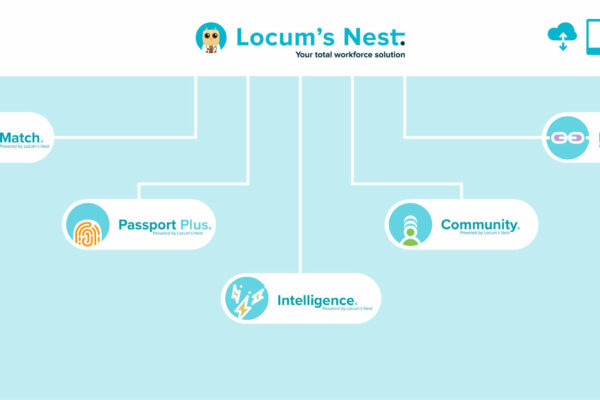 2020 NIA innovation Locum's Nest recently launched 4 new products!
Locum's Nest has announced the NHS's first total workforce solution for temporary staffing within hospital Trusts and General Practice.
The company believes this move will radically transform temporary staffing management and help ensure it reaches its new target of saving the NHS £1.5 billion during the next five years.
The new system ensures a completely streamlined process from predicting staffing needs in advance, improving staff engagement, to free on-demand payment to the clinician after the shift is completed.
Locum's Nest Co-founder Nick Andreou says, " Locum's Nest has saved every single Trust it's implemented in millions of pounds, even more than we imagined when we began in 2016. NHS England spent £2.4bn on agency locums last year, and we now know we deliver, on average, a 67% improvement in fill-rate from agencies… that's more than £1.5bn savings across the NHS.
"These new products, on top of the successes we already see from our original product, will ensure every Trust is able to tackle staff shortages in a bespoke manner while saving more, every year."
The products newly added to the Locum's Nest flagship digital software have been developed following a period of rapid innovation in healthcare technology during Covid-19 and are part of the company's acceleration this year as it seeks to unlock the market's potential for tech-led temporary staffing across the whole NHS.
To build the service, Locum's Nest looked at the whole staffing process from beginning to end, highlighted areas of focus and innovated. The aim is to unify and build, for the first time in NHS history, a comprehensive workforce solution to fit every healthcare organisation's needs.
This fully integrated approach covers five key areas and will allow administrative staff, HR professionals, financial directors, Trust managers and clinicians to work together collaboratively as one entity in order to deliver the best possible patient care in the UK.
Locum's Nest Co-founder Ahmed Shahrabani says, "Connecting clinicians to vacant work via 'Locum's Nest Match ' is the foundation for all our work, but we are now able to supplement it with four new innovative products; the way healthcare organisations will customise these bespoke features creates a truly unique offering.
"Passport Plus creates a central passport for all doctors and streamlines compliance requirements. Intelligence gives HR teams a whole new level of knowledge and visibility with real-time data and forecasting tools. Community enables effective communication between management and the clinical workforce. And Link seamlessly integrates all core systems such as rostering, payroll into one function and will continue to bring new features as we keep on bridging all technological gaps."Further detail on each new product is outlined below:
Passport Plus allows HR professionals full control and choice of clinicians through the NHS compliant 'digital passport'. The clinician's credentials are reviewed then accepted or rejected all in one place. Locum's Nest has also partnered with ACI, UK's leading Locum compliance handlers, to provide truly unique hands-on assistance to hospitals wishing to process candidates faster. Additionally, clinicians themselves can ensure paperwork, quick guides to hospitals, and communication can be picked up easily through the passport function.
Intelligence allows administrative staff access to a powerful reporting dashboard displaying their Trust's staffing data in real time. It can forecast future workforce needs based on analytics and insights and has the ability to benchmark departments against each other as well as other NHS Trusts, allowing for collaborations, ensuring best practice and universal standards across the whole of the NHS.
Community allows administrative teams to communicate with their workforce using one platform. From staff surveys, sending push notifications and nurturing the whole community with bulletins. A happy, included and retained staffing pool will always mean higher staffing levels, full time clinicians will want to stay and locums will want to return.
Link integrates and streamlines multiple software platforms, shifts and paperwork for a world class end-to-end process. It has real-time 'pushing' of 'hard to fill' shifts through to multiple agencies. Customisable features allow, instant pay facilities for staff, 'Bank-first' organisation giving priority to the Trust's own staff bank for certain shifts and the possibility to engage neighbouring
NHS organisations to fill shifts.[rd_fq_sc i_color="#ffffff" i_bg_color="#006298″ i_b_color="#006298″ author_one="Melissa Edwards" info_one="Rota Coordinator" quote_one="We have freed up our days by no longer needing to constantly call, email and message doctors." author_two="Roger Wilson" info_two="Human Resources Director" quote_two="To be able to predict where hospitals may be low on staff in advance allows for planning that can benefit everyone. Less time is spent filling a shift, which means hours are freed up for overstretched staff to focus on shifts that may be harder to fill." author_three="Dr. Katerina Constantinou" info_three="A London-based GP" quote_three="Using Community will allow doctors like me to feel part of the wider staffing team and give us the opportunity to positively influence the direction the local NHS community takes." author_four="Suzanne Rankin" info_four="Chief Executive, Ashford and St Peter's Hospitals NHS FT" quote_four="Locum's Nest has been a great exemplar of digital enabled transformation by helping us better empower our workforce – vastly improving shift fill rate and reducing costs." mt="20″ mb="30″]These four new products, and Match, allow for true interoperability and innovation in a hospital and general practice setting. Each tool solves specific needs for a range of staff that are involved across the staffing process.
Dr Nicholas Andreou, Co-Founder Locum's Nest, "Temporary staffing within healthcare is an age old problem, however we truly believe that with this total workforce solution we are now finally able to streamline the staff NHS has available, retain them, and work with them to ensure every shift is filled.
"We have learnt a huge amount during the COVID-19 pandemic, listening, talking and working with our existing customers and clinicians to develop solutions to specific needs. We hope that with this bold offering and some help from our supporting partners we are able to end this struggle and ensure the best possible patient care in our NHS."
NIA 2020 Fellow Ahmed Shahrabani on why this was the right time to launch:
There has been a herculean response from the NHS so far right across the board, from the volunteers supporting the system right across to the recently retired doctors and nurses reinstating their licenses to support on the frontline. Over the past few months, we've really tried to think what is it that our NHS partners need right now. We're grateful to be so closely connected to our partners with a number of us at Locum's Nest working on the wards and supporting the teams on-site since the pandemic started.
With things changing almost on a daily basis, with new guidelines, ways of working, wards getting restructured and rosters getting repurposed, we at Locum's Nest focused on delivering even more value to address these areas. By giving our partners the choice of tools they need to communicate and engage with their workforce, analyse their Trust workforce operations centrally at their command centres and rapidly onboarding new doctors, nurses and allied healthcare professionals we hope that we can continue to support them throughout the next phase of the pandemic and beyond.Find out more about the new Locum's Nest product range here.