News
Webinar: Supporting mental health post COVID-19: Learnings from the NHS Innovation Accelerator
18th September 2020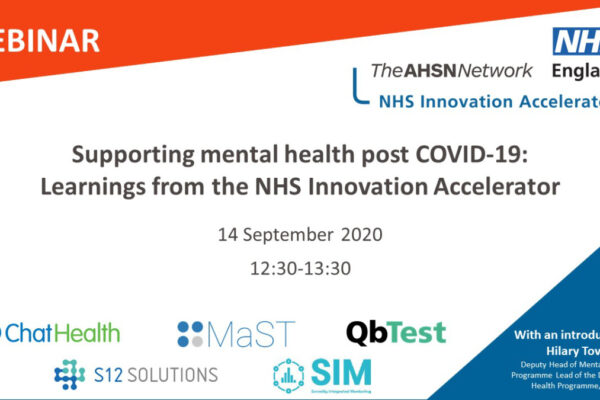 On 14 September 2020, the NHS Innovation Accelerator (NIA) hosted a webinar featuring an introduction by Hilary Tovey, NHS England NHS Improvement Deputy Head of Mental Health and Programme Lead of the Digital Mental Health Programme, and several NIA Fellows speaking to their learning from working in mental health through COVID-19.
During the session, Hilary Tovey addressed the impact of the pandemic on NHS mental health services and provided an overview of national NHS priorities for the months to come.
NIA Fellows then shared the unique insights they gained from implementing mental health solutions during the COVID-19 pandemic and through NHS Reset.
The presenting Fellows were:
Caroline Gadd, Management and Supervision Tool (MaST)
Paul Jennings, NIA Alumnus, Serenity Integrated Mentoring (SIM)
A recording of the webinar can be viewed above or via this link.