News
10 innovations to be supported by the NHS Innovation Accelerator in 2022
31st March 2022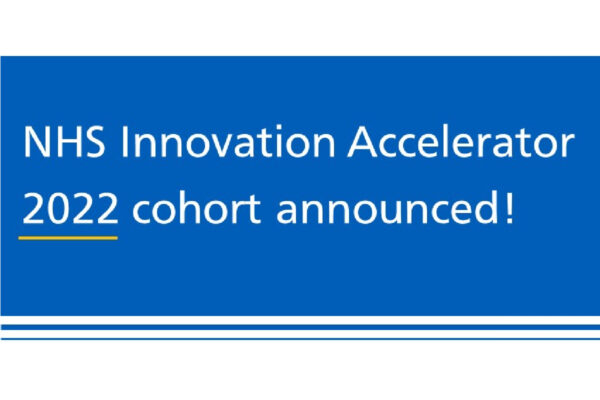 Today, the NHS Innovation Accelerator (NIA) announced the 10 remarkable innovators who will be supported to spread their promising innovations in England's NHS over the next three years. The selected innovations offer solutions to some of the most pressing needs of the NHS for the benefit of patients and staff.
Each innovation – and its representative innovator ('Fellow') – were selected through a robust, multi-stage application and assessment process involving a college of expert clinical, patient and commercial assessors. This panel is drawn from a wide range of organisations including NHS England and NHS Improvement, AHSNs, the National Institute for Health and Care Excellence (NICE) and The Health Foundation.
Today's announcement marks the seventh cohort of Fellows since the NIA was launched in 2015. The national accelerator is commissioned by the Accelerated Access Collaborative at NHS England and NHS Improvement. It is delivered in partnership with the 15 Academic Health Science Networks (AHSNs), hosted by UCLPartners, and chaired by Professor Stephen Powis, National Medical Director for NHS England and NHS Improvement.
The ten innovations and innovators which make up the 2022 NIA cohort are:
Abtrace, Umar Naeem Ahmad (CEO): a digital health software solution for GP surgeries that sits on top of existing electronic healthcare record systems extracting data, processing against guidelines, and delivering an intuitive output to clinicians and managers.
DemDx, Lorin Gresser (CEO and Co-Founder): a CE marked AI-enhanced Clinical Reasoning Platform that supports frontline healthcare professionals to diagnose, order investigations and make care recommendations at the first point of contact, before the patient sees a doctor.
DigiBete, Maddie Julian (CEO): a digital platform providing diabetes awareness, education, training and support to families at home; and an app, allowing diabetes teams to create their own personalised digital service and paperless clinic to support patients.
getUbetter, Carey McClellan (CEO and Clinical Director): an evidence-based digital self-management platform for all common musculoskeletal conditions that helps to provide digitally enabled MSK care and support self-management across the whole care pathway.
Hear Glue Ear, Tamsin Holland Brown (Founder): an affordable solution for the most common type of hearing loss in childhood: glue ear. A headset helps support hearing and the Hear Glue Ear app provides speech and language enrichment, education and home management of glue ear between appointments.
Maxwell Plus, Tom White (COO and Co-Founder): Maxwell Plus is a breakthrough technology in diagnosing prostate cancer early by analysing patients' blood, demographic and MRI data online with AI and expert clinicians to find prostate cancer early.
The Real Birth Company, Zoe Wright (Founder and Director): The Real Birth Digital Workshop™ is a multi-language birth preparation resource providing interactive, user friendly, animated, and easily accessible information to empower women.
Thalamos, Arden Tomison (Founder and CEO): Thalamos' eMHA software provides an end-to-end digital pathway for the Mental Health Act. Working with NHS Trusts and Integrated Care Systems, deploying Thalamos supports patients to receive better care under the MHA.
UNEEG Medical, Chris Young (Sales & Market Development Manager): the 24/7 EEG™ SubQ is a CE marked subcutaneous implant and external recorder solution that allows for continuous EEG monitoring day and night for up to 15 months in a real-life setting.
Written Medicine, Ghalib Khan (Co-Founder and Director): enables clinicians at the point of prescribing/dispensing/discharge to print instructions, warnings and information in bilingual or accessible formats, comprising 15+ languages, pictograms, and illustrations drawn from datasets of 3000+ phrases.
Professor Stephen Powis, National Medical Director for NHS England and NHS Improvement and Chair of the NIA said:
"It's a pleasure to welcome these 10 innovators to the NHS Innovation Accelerator. After seven years, the NIA has proven its ability to identify and support solutions which are at the forefront of innovation. The individuals selected this year join an existing group of 72 Fellows and Alumni who share their passion for improving NHS patient outcomes and staff experience. Their success of spreading to over 2,785 NHS sites speaks for itself."
Dr Chris Laing, NHS Innovation Accelerator Director and Chief Executive Officer of UCLPartners said:
"The ten individuals successful in their bid to join the NHS Innovation Accelerator this year have gone through a rigorous assessment process and shown themselves to be ready to scale in England's NHS. We are happy to welcome them to the NIA and look forward to supporting them in their innovation journey."