News
New NHS Innovation Accelerator Fellows announced for 2020!
5th March 2020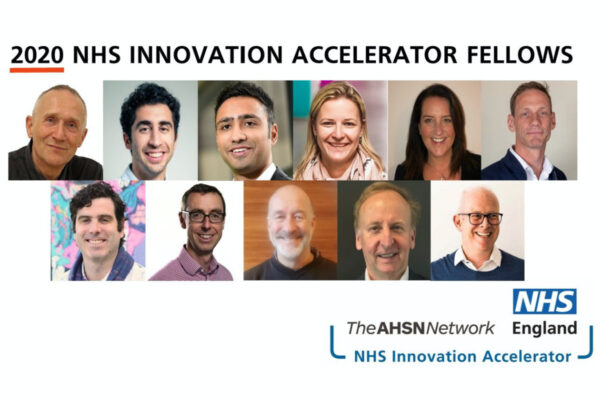 11 new innovators tapped to transform England's NHS through national acceleration.
The NHS Innovation Accelerator (NIA) has announced today the 11 high impact innovations joining the national accelerator in 2020. At a launch event in London chaired by Professor Tony Young, National Clinical Lead for Innovation for NHS England and NHS Improvement, the 2020 cohort of Fellows presented their innovations to over 100 key stakeholders.
The innovations joining the award-winning NIA offer solutions supporting priority areas for England's NHS as laid out in the NHS Long Term Plan. Their recruitment follows an international call and rigorous selection process, including review by over 100 clinical, patient and commercial assessors, an informal review by the National Institute for Health and Care Excellence (NICE), interviews, and due diligence. The newly appointed group includes a medically certified smartwatch app capable of detecting atrial fibrillation (AF), a device reducing the angst of parents by enabling faster ADHD diagnosis, and an artificial intelligence (AI) platform bringing patients' voices to life to improve care.
This marks the fifth year of the NIA, which is an NHS England initiative delivered in partnership with England's 15 Academic Health Science Networks (AHSNs), hosted at UCLPartners. Since 2015, it has supported the uptake and spread of 62 evidence-based innovations across more than 2,210 NHS sites. Independent evaluations report that NIA innovations save the health and social care system £38m a year, conservatively.
Professor Stephen Powis, National Medical Director for NHS England and NHS Improvement, said:
"The NHS Long Term Plan puts the latest technology and innovation at the heart of people's care and the future of our health service. Right across the NHS patients are benefitting from world-beating innovations, spread as part of this programme, and now even more patients will be supported by new tools."
Piers Ricketts, Chair of the AHSN Network, said:
"The NHS Innovation Accelerator is one of the flagship programmes of the AHSN Network. NIA Fellows have made a huge contribution to our health and care system since we started the programme five years ago, and we are proud to have supported these remarkable individuals on their development journey. It is gratifying to see their high-impact innovations gaining traction and visibility through our accelerator programme, and we are delighted that several NIA innovations have now had national impact in the NHS.
We look forward to working with the new NIA Fellows to help them scale and deploy their innovations across the country for the benefit of patients and the NHS."
The Fellows and innovations comprising the 2020 cohort are: