News
World-first ADHD remote testing tool for clinicians launched in response to COVID crisis
26th October 2020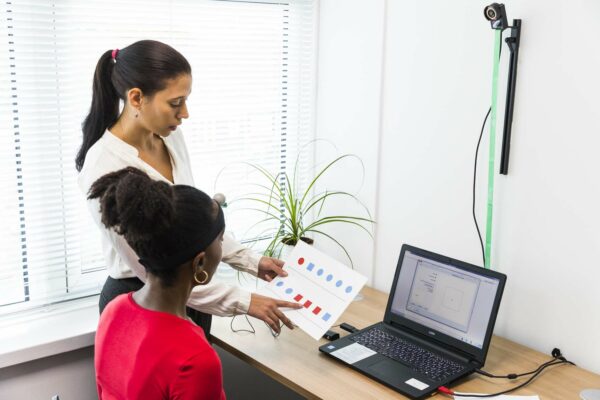 80% of the world's healthcare professionals have reported that their patient's mental health has worsened during the COVID-19 pandemic [i]. There is growing concern that ADHD care is compromised as patients have not been able to make clinic visits during lockdown. ADHD is strongly associated with anxiety and other related disorders and in a recent survey by ADDitude [ii] 73% of those with ADHD reported feeling anxious due to COVID. Continued access to healthcare should help those who are anxious, and it is a top priority for clinicians specializing in ADHD.
In response to these needs, international healthcare technology company, Qbtech, has created QbTest Telehealth, an out of clinic modification to its approach to ADHD assessment, QbTest.
Patients perform a test when and where it suits them and require no specialist in-clinic hardware, only access to a PC and standard webcam. Harnessing facial recognition through a webcam to track head movement, a typical test lasts no more than 15-20 minutes. Results are assembled into a report and compared with normal data from other people of the same sex and age and are automatically sent to the clinician. Reports, which include self-ratings, along with their interviews, are used to make diagnostic decisions, and to improve communication with patients and their families [iii] [iv] [v].QbTest is A CE-marked, FDA approved medical device that simultaneously measures attention, impulsivity, and motor activity to speed up ADHD diagnosis and improve treatment evaluation. In England, QbTest has been shown to speed up the time to diagnostic decision, enable early intervention and significantly reduce costs for NHS trusts.
In the UK Child and Adolescent Psychiatrist Dr. Kumaran Thevan has used QbTest Telehealth extensively within the NHS ADHD service and more recently in private practice. He said:
"During lockdown, there has been increased pressure on children with inattention, and their parents, to cope with remote learning. The demand for assessments has increased and often in the absence of reliable school input – given teachers are seeing pupils via video link only. Having QbTest Telehealth has been invaluable. In the patients that have undertaken testing, they have found it convenient and the ability to share results quickly has been reassuring. All in all, it has become an integral part of remote clinical assessments and testing treatment efficacy. I envisage this will continue, even after the pandemic."
Speaking about the launch of the new telehealth solution for QbTest Tony Doyle, Qbtech Managing Director and NHS Innovation Fellow, said:
"QbTest is becoming a standard part of ADHD assessment in the NHS and over the last 2 years we have been developing technology for tests to be conducted without the need for a clinic visit. QbTest Telehealth makes this possible, enabling clinicians to support their patients remotely during COVID 19 restrictions and beyond."
For many clinics in the US, QbTest Telehealth has allowed them to continue testing despite lockdown restrictions. April Green, from Focus an ADHD clinic in Tampa, Florida said:
"I have been assessing and managing ADHD patients for years now and was very uncertain as to what to do during the start of the shutdown. I have been using QbTest Telehealth in a feasibility initiative to provide new patient objective evaluations for children and adults. I have been able to see even more patients than before, have not had to take patients out of school or work for testing, and continued to provide quality care."
QbTest, represented by Fellow Tony Doyle, joined the NHS Innovation Accelerator in 2020.
[i] Chudasama, Y.V., Gillies, C.L., Zaccardi, F., Coles, B., Davies, M.J., Seidu, S. and Khunti, K. (2020). Impact of COVID-19 on routine care for chronic diseases: A global survey of views from healthcare professionals. Diabetes & Metabolic Syndrome, [online] 14(5), pp.965–967. Available at: https://www.ncbi.nlm.nih.gov/pmc/articles/PMC7308780/ [Accessed 1 Oct. 2020].
[ii] Board, A.E. (2020). As Time Stands Still, ADHD Treatment Is in Almost Constant Flux. [online] ADDitude. Available at: https://www.additudemag.com/adhd-telehealth-medication-therapy-changes/ [Accessed 28 Sep. 2020].
[iii] Hollis C, Hall CL, Guo B, James M, Boadu J, Groom MJ, Brown N, Kaylor-Hughes C, Moldavsky M, Valentine AZ, Walker GM, Daley D, Sayal K, Morriss R; the AQUA Trial Group. The impact of a computerised test of attention and activity (QbTest) on diagnostic decision-making in children and young people with suspected attention deficit hyperactivity disorder: single-blind randomised controlled trial. J Child Psychol Psychiatry. 2018 Dec;59(12):1298-1308. doi: 10.1111/jcpp.12921. Epub 2018 Apr 26. PMID: 29700813; PMCID: PMC6124643.
[iv] Hall, C., Valentine, A., Walker, G., Ball, H., Cogger, H., Groom, M., & … Hollis, C. (2017). Study of user experience of an objective test (QbTest) to aid ADHD assessment and medication management: A multi- methods approach. BMC Psychiatry, 17(1), doi: 10.1186/ s12888-017-1222-5
[v] Vogt, C., & Shameli, A. (2011). Assessments for attention-deficit hyperactivity disorder: Use of objective measurements. Psychiatrist, 35(10), 380-383. doi: 10.1192/pb.bp.110.032144