Insight | Case study
My Story: How an app revealed early stages of skin cancer
20th March 2019 | NHS Innovation Accelerator Staff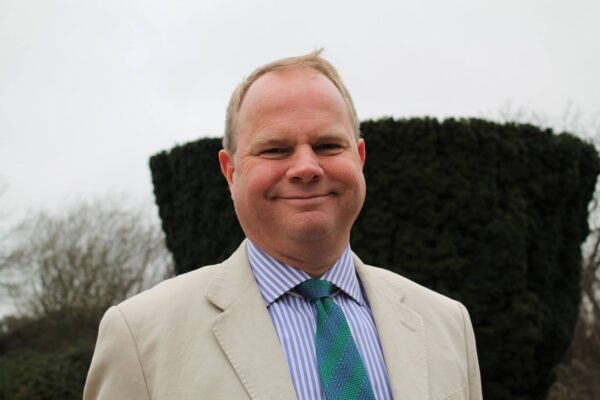 After becoming aware of an unusually coloured mole during a massage, William Webber turned to SkinVision. Following confirmation of a 'high-risk result' he consulted a specialist and tests revealed a Melanoma in situ – the earliest stage of skin cancer.
It was at a massage when William became aware of the mole. "I go every six weeks and the masseuse obviously sees parts of me that I can't see myself. She thought that it looked different, that it had got much darker since last time."
William Webber was born in Kenya, moving to Malta aged one. William now lives in Somerset, where he is a helicopter pilot – although he has been: "flying a desk for quite some time now."
"We were not what you would call 'sun aware'"
"Growing up in Malta, I was always in the Mediterranean sun as a child. We were not what you would call 'sun aware'. I have loads of moles. I am not sure when they appeared and have never really paid them much attention and thought they were normal – something that has proven rather foolish in retrospect."
The mole pointed out at the massage last December was on the back of William's leg."I went home and looked at it in the mirror. I thought it was a lot darker than it used to be, but I still wasn't sure whether to bother my doctor with it. I thought I would just be wasting his time.
"I had read about SkinVision in the paper and thought I would give it a try that afternoon. I downloaded the app and it immediately came up with a high-risk result."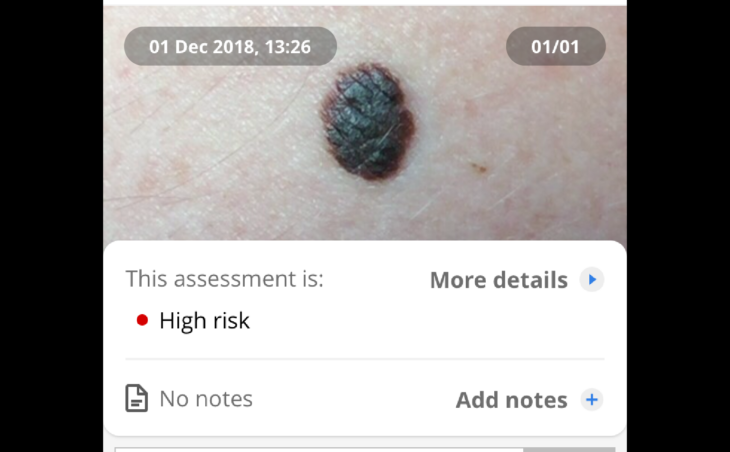 SkinVision is a leading app for the early detection of skin cancer. It uses clinically validated machine learning algorithms to ascertain the risk of skin cancer on skin lesions with an accuracy of 95%, in line with that of a senior dermatologist.
"They got out a dermascope… before giving me a referral to see a specialist"
"The very next day I received an email from SkinVision telling me to go to the doctor as soon as possible. With that insistence and the concern of the masseuse I was triggered to mention it to my GP. I was going anyway and asked him at the end of my appointment to have a look. They got out a dermascope and called in another doctor for a second opinion, before giving me a two-week referral to see a specialist." At the appointment the Dermatologist decided to remove the mole and two days later William was back having it cut out and sent for biopsy.
"I spent my Christmas and New Year waiting for the biopsy results and it is very difficult to put into words the anxiety that I went through. Suffice to say, I went into considerable detail looking into the financial situation that my wife and daughter would be left with should my time in this world be cut short. My wife and daughter also worried about the outcome and did their very best to distract me and keep me busy while waiting for those biopsy results."
The results revealed a Melanoma in situ – the earliest stage of the cancer. William received a wide local excision, removing 1cm of skin down to the muscle around the lesion a few days later.
"SkinVision gave me added confidence to go and ask the doctor about it"
"For me, [SkinVision] gave me added confidence that I wasn't being a wimp, and to go and ask the doctor about it. There's a degree of how much do you trust it? Often a bunch of algorithms doing their stuff could be considered suspect, unless there is a human component looking at it."
SkinVision has a team of dermatologists that have taken part in supervising the training of the algorithm, which is trained on hundreds of thousands of images of suspicious moles. They also perform quality checks on the risk indications, ensuring those who need to, get treatment at the right time.
"It certainly pushed me in the right direction. I know the ABCDE rules and have read a lot online about skin cancer, but most of my moles – when I look at them with the naked eye – they looked fine. When you look with the app you can see that some are not symmetrical, that they have a vertical aspect to them. Seeing them up close through the app was an eye opener for me. Very different than a black speck on my skin – more like Mount Vesuvius!"
SkinVision is an app empowering people to monitor their skin for early signs of skin cancer. It was selected to join the NHS Innovation Accelerator in 2019.
1.2 million users globally, including 180,000 from the UK
Estimated to have already saved the NHS £2.5 million in 2018 by identifying 240 skin cancers including 63 melanomas
Increased productivity and efficiency in the skin cancer care pathway by reducing unnecessary visits
On a mission to save 250,000 lives globally in the next decade
1,500 skin checks performed per day
For more information email Gavin Matthews: gavin.matthews@skinvision.com or visit www.skinvision.com