Insight | Blog
Fellow spotlight: Caroline Gadd
27th September 2021 | Caroline Gadd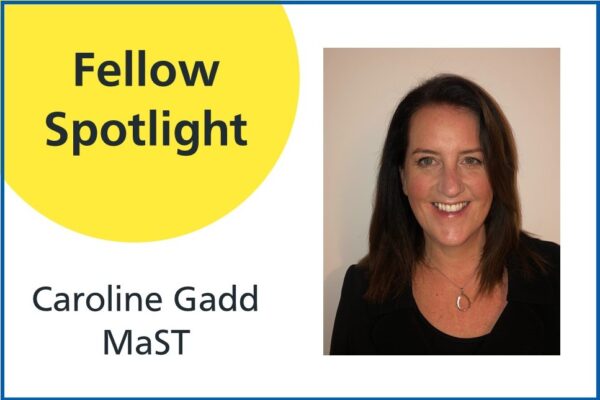 Caroline Gadd joined the NHS Innovation Accelerator (NIA) in 2020 with her innovation Management and Supervision Tool (MaST). Here she answers a few questions about herself, her work and her experience as an NIA Fellow.
What three words would you use to describe yourself?
Caring, entrepreneurial, motivated.
How did you get involved with health innovation?
I first became excited by health innovation as a newly qualified staff nurse on the cutting-edge paediatric stem cell transplant unit in Bristol under the inspirational leadership of Dame Jackie Cornish. Fifteen years later, and after several roles in the healthcare industry leading NHS collaborations, I was offered an opportunity to explore research and development opportunities in digital mental health. I once again found myself in Bristol working with creative and collaborative NHS colleagues to develop a digital health solution which would help transform community mental health services. This is where we created MaST.
I was fortunate to have talented and experienced analysts, technology leads and clinicians in my network who continue to help me to learn and understand how to lead the design, development and implementation of our digital health solutions.
What was your experience of the NIA application and interview process? 
I applied for the NIA twice and was accepted the second time around. The application itself takes some time and effort but I found the opportunity to reflect on my personal drivers, reasons for wanting to be a part of the programme and plans for scale up to be a very valuable activity.
The interview was nerve wracking but exciting and inspirational at the same time! It was the first time I'd had such a diverse group of healthcare leaders around a table discussing my innovation. What struck me was the questions I was asked demonstrated the group's genuine interest in my work so far and the clear motivation to help me succeed.
Have you been a part of any other accelerators?
Whilst on the NIA, I was accepted onto the Catalyst programme offered by Southampton Science Park. This business-focused accelerator was completely different and yet complementary to the NIA.
What is the biggest benefit you've experienced as part of your NIA Fellowship?
There have been so many benefits of the NIA so far but the biggest has probably been that it has provided a gateway to new NHS customers. The NIA has done this by providing credibility, awareness and a platform for communication which has enabled me to become more established as a partner and supplier to the NHS. The practical support provided by the NIA also allows me to feel confident in reassuring potential new clients with our governance arrangements, evidence and customer service.
What's one tip you have for others looking to develop and scale an innovation in the NHS?
Trust yourself – your intuition, your judgement, your purpose and your values.